​Hypnobabies Kansas City is pleased to offer the only Hypnobabies class in Missouri or Kansas with the exception of St. Louis. This is a 6-week comprehensive childbirth education program that utilizes medical hypnosis techniques that you and your partner can use for a an easier, shorter and more comfortable birth.
The use of hypnotic techniques, imagery and visualization re-program the mind for a positive outcome which lessens and even in many cases eliminates discomfort and fear from birth.
Hypnobabies is different from other childbirth classes in that it does not teach relaxation in order to "cope" with pain. Hypno-moms enjoy a "eyes-open childbirth hypnosis" which allows them to easily remain deeply in hypnosis and comfortable while walking, talking and changing positions AND localized and/or general (when not moving) anesthesia.
In your Hypnobabis class, you will receive all you need to know about the physiology of childbirth, reducing fear, worry and doubt, connecting with your baby and body, your options during pregnancy and birth, postpartum and breastfeeding. All of this is supplemented with the hypnosis tracks and scripts that makes this program a success.
You can learn how Hypnbobies is different from other natural childbirth education classes out there by checking the
benefits
of Hypnobabies classes. Still have questions? Contact Julia through the contact link and read through the
Frequently Asked Questions.
THE BASICS OF WHAT YOU WILL LEARN DURING YOUR 6 WEEK CLASS:
Staying healthy and Low Risk

Comfort in Pregnancy

Birthing Choices

Creating Informed Consent

Nutrition and Exercise

Avoiding Toxic Substances

Optimal Fetal Positioning

Stages of Labor

Anatomy & Physiology of Birth

Prenatal Parenting

Abdominal Lift and Tuck

Belly Mapping

Risks, Benefits and Alternatives to common interventions

Birth Empowerment Skills

Birth and Baby Plans

Local Resources - Doula & Midwifery Information

Avoiding Induction and Cesarean Section

Delayed cord clamping and Baby Kindness

Birth Preparation and Birth Support Training for Birth Partners

A Birthing Rehearsal using the hypnosis techniques in class

Information on New Baby Care, Breastfeeding and Postpartum Care
Materials Included:
Hypnobabies Student Workbook
Hypnobabies Tote Bag & Folder
Quick Reference - Birth Partner's Guide Booklet
26 individual handouts
Mother and New Baby Care Booklet
Hypnobabies Class Scripts Booklet
8 CDs/14 MP3s including:
Joyful Pregnancy Affirmations

Fear clearing

Easy Comfortable Childbirth

Deepening Your Hypnosis

Special place imagery and relaxation

Birthing Day Affirmations

Easy, Comfortable Childbirth

Birth Guide

Visualize Your Birth

Hypnotic Childbirth #1/Hypnotic Childbirth #2

(Learning self-hypnosis, Creating anesthesia, using cue words for instant physical comfort and instant hypnosis)

Birth Partner Relax and Feel Confident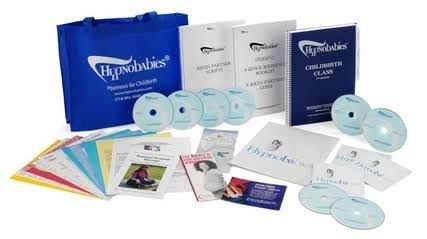 Upcoming Class Begins Sunday November 5, 2017 @3:00
​in Holt, MO
Next Class Begins Sunday January 7, 2018 @1:30 in Brookside, MO
​
​Let's Connect Julia@Hypnobabieskc.com